Most Popular

Women Entrepreneurship Fund
You could get up to $100,000 to grow the operations of your women-led business, and to reach new markets.

Futurpreneur
Launch a successful business with support from Futurpreneur. If you are an entrepreneur age 18-39 you can access mentoring and financing.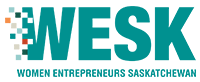 Women Entrepreneurs of Saskatchewan Inc.
WESK provides business advisory and support services, start-up, purchase and expansion lending, mentoring, networking, seminars/webinars and events.
Get your business on the SK Business Support Directory
Apply Today